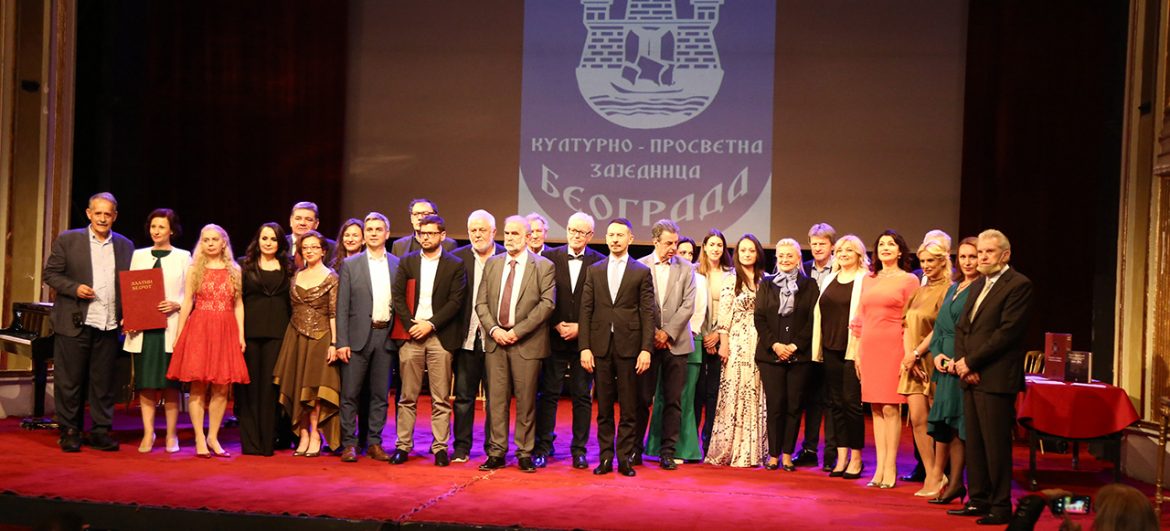 Golden Hoop 2020
The 50th Jubilee award ceremony "Golden Hoop" for lasting contribution to Belgrade culture whose creators were poet Vasko Popa, painter Radomir Stević Ras and Jevta Jevtović, was organized by the Cultural and Educational Association of Belgrade at the National Theater in the capital city.
On behalf of the Belgrade Cultural and Educational Association, Živorad Žika Ajdačić, its Secretary General, welcomed everyone present and gave a short speech on the history of the Association and the "Golden Hoop" award.
The Association Vice President Jadranka Jovanović then read a speech written for the occasion by the President of the Association, well-known writer Prof. Milovan Vitezović, and thus officially opened the award ceremony.
Prof. Vitezović nicely wrote that "culture is a cognitive and mutual process of shaping the character of every human being. Therefore, concern for culture also means concern for the true qualities of one's nation, even when it comes to its survival. So, it makes culture the defense of the nation, too."
At the proposal of the Jury, a decision was made to award the following winners in 2020: Extraordinary Golden Hoop for lifetime achievement went to film director Predrag Gaga Antonijević, academician Slododan Grbačić and music artist Miloš Jović, known as Leo Martin.
Extraordinary Golden Hoop was awarded to the cultural institutions BEMUS and the Association of Serbian Film Artists (UFUS).
Among other well-known artists and institutions, the Golden Hoop was awarded to: Prof. Ivan Karl, film director Jug Radivojević, opera artist Sanja Kerkez, "Gallery 73", Prof. Milena Marković, writer Igor Marojević and others.
For the first time this year, the Cultural and Educational Association of Belgrade also awarded a special recognition – EXCEPTIONAL CHARTER for lasting and outstanding contribution to the culture of Belgrade and Serbia to those who are engaged in other activities important for overall life but never forget to support culture and everything that represents the spiritual upgrade of a nation.
The "Karić Brothers" Foundation received this Exceptional Charter for this year as the first private foundation that has been supporting cultural institutions, artists and promising art students for more then 40 years, and with its publishing activities preserves the national alphabet, our Cyrillic letter and promotes the national culture of Serbia.
The Exceptional Charter was presented on this occasion by the Secretary General of the Belgrade Cultural and Educational Association Živorad Ajdačić, to Mrs. Milanka Karić, the founder and honorary president of the Karić Brothers Foundation. She pointed out how extremely proud she is that the Karić Brothers Foundation was selected by the Jury for this unique recognition, that it is a great honor but also an obligation for the Karić Foundation to continue its established decades-long path, and that is to selflessly help and participate in all segments of culture, because what is a nation but its culture from which everything begins.