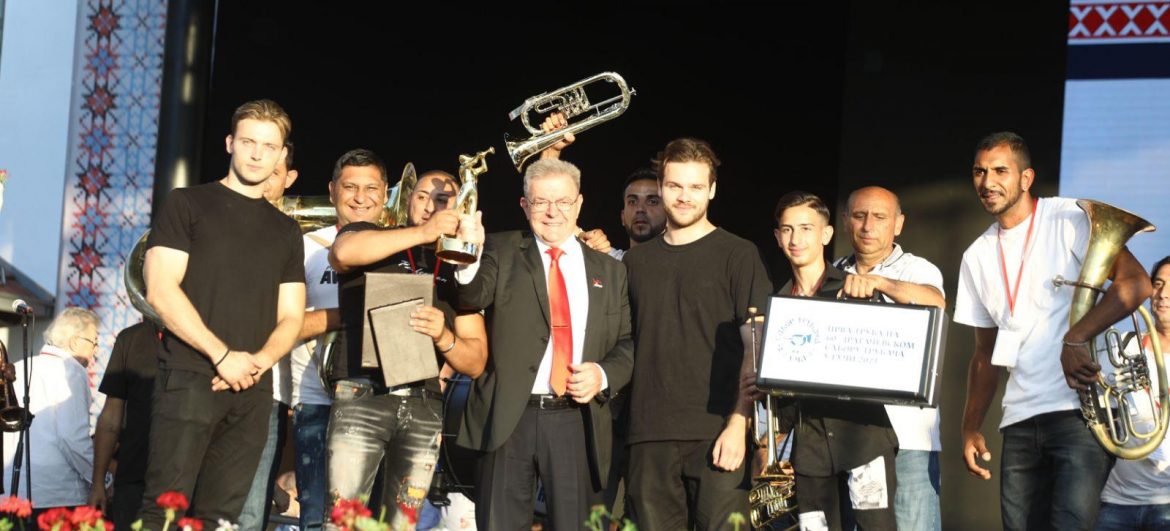 Dragomir J. Karić with grandsons Aleksandar and Konstantin presented the statuette Dragačevo Winner to the best trumpet player on behalf of the Karić Brothers Foundation
The 60th Trumpet Festival in Guča has ended, and among those who will remember it for the rest of their lives is certainly Kristijan Azirović from Bojnik, who was crowned with the prestigious title of the best trumpet player.
The statuette of Dragačevo Winner, traditionally awarded by the Karić Brothers Foundation, was solemnly presented to him on behalf of the Karić family and the Foundation, Dragomir J. Karić, together with his grandsons, Aleksandar and Konstantin.
This elegant gilded replica of the Monument to the Trumpeter located in the center of Guča, that was donated to the town by the Karić Brothers Foundation in honor of this event, will always remind Kristijan Azirović of the day when as he said he realized every trumpet player's dream and was named the best in the competition.
This year's Trumpet Festival is another proof that Serbia should pay more attention to such an event.
Festival in Guča is something very unique in the world, and it is just one of the reasons why the Foundation, and especially its founder Bogoljub Karić, support and emphasize the importance of this event. Bogoljub points out that the Trumpet Festival in Dragačevo is very important, that it is an authentic Serbian brand that gathers about half a million of trumpet fans from all over the world every August. Today, the Festival of Trumpet is not only a national but also a world phenomenon, which, to the pride of all of us, has been inscribed in the Intangible Cultural Heritage List of Serbia since last year. Let us remind you that 22 years ago, Sreten Karić initiated the construction of the Monument to the Trumpeter, unaware that it would become a kind of cult place for taking photos, meeting and socializing, and giving all possible promises of young couples to each other.
This year, 17 brass orchestras competed for prestigious festival awards.
The expert jury, the jury of the audience and the third jury that evaluated the originality of playing at the 60th Dragačevo Trumpet Festival decided that in the Final Competition, the following deserve awards:
– The Orchestra of Vladimir Ivanović from Zagužanje was named the best orchestra of the 60th Festival
– The orchestra of Jovica Jovanović from Lunovo Selo played the traditional "Apple of Gold" in the most original way
– Marko Trnavac (Mršelji) from the eponymous orchestra, was named the most popular trumpet player – the trumpet of the audience
– The orchestra of Marko Gligorjević from Bajina Bašta played the song best
– The First place orchestra of Kristijan Azirović from Bojnik played the kolo dance best
– Second place orchestra – Marko Trnavac from Mršelj
– Third place orchestra – Timočki Veseljaci from Knjaževac
– Second best trumpet – Marko Gligorijevic, Bajina Bašta
– Third best trumpet – Vladimir Ivanović, Zagužanje
– The best drummer is Filip Stojanović from the Siniša Stanković Orchestra, Zagužanje
– The best bassist is Stefan Ilić from the orchestra of Vladimir Ivanović, Zagužanje
-The best tenor trumpet is Milutin Jevđić from the "Dragačevo Trumpet" Orchestra, Guča