Karic Brothers Award laureates arriving from all over the world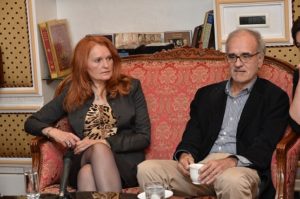 Only two days are left to the KarićBrothers Award Ceremony and laureates have started to arrive from all over the world to the capital of Serbia.
After the arrival of the performance artist Marina Abramović, the winner in the field of journalism and publishing – Volt Bogdanich, professor at Columbia University and an editor of the New York Times, came to Belgrade too, as well as Vesna Garović Kocic,PhD, winner in the field of scientific research work, the second woman professor in the history of the famous Mayo Clinic in Minnesota.
The journalist Volt Bogdanich says that Belgrade is a special place in his life because, although he has not grown here, the Serbian capital has a special energy that thrills him. His work, struggle for truth is based entirely on investigative journalism for which he received three prestigious Pulitzer Prizes. Asked if he ever thought that it may be better for people to live in ignorance, Volt said:
– The only opinion of those who I wrote about was just that we should live in ignorance and that my only job is to spread fear. I think it is my job to present truth to people, that they are entitled to it, because we journalists are the very ones who write the first draft of history. What I always advise my students, is never to accept no for an answer, to be confident in the fact that if they do something correctly, they can change the world. I must believe that I have the right to have the information and that I am the only representative of my readers who have given me the responsibility to learn the real face of the world that surrounds us. You should never give up the fight for truth because we have a full right to it – said Bogdanich.
Dr. Vesna Garović Kocić says that her journey from Peć, where she was born, via Belgrade, New York, Montreal and Toronto to Rochester in Minnesota, where she now works on the research for early detection of pre-eclampsia (complications during pregnancy), has been both long and significant. She said that in America she was given the opportunity to show what she is capable of.
The President of the Karić Foundation Mrs. Milanka Karić said that she is proud of all the previous winners of this award who, as she says, make this world more enjoyable and successful, because in fact – they make the honor to the award, not the award to them.
Laureates say that their whole experience so far in Belgrade was very pleasant thanks to their hosts from the Karić Foundation as well as to the fact that they are honored, primarily, to be in such excellent company, among this year's winners who, as they say, contribute to a better future for all of us.