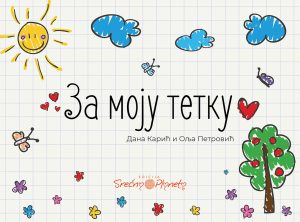 Aunts make the most beautiful pancakes in the world, they know which book contains the most beautiful fairy tales, how to keep secrets and have magical hugs. In the childhood of each child, aunts invent the most interesting games, with them they laugh more and grow up more beautifully.
They know why you should sometimes have ice cream for lunch instead of green beans,
what should we wear when we go for a walk, we stay longer in the water with them at sea. Aunts with children make mischief, draw, learn songs,
and write when homework is needed. Every aunt in the world is a child at heart
it has its own special place, next to the place for moms.
In this book, we will write together the most beautiful experiences with our aunts, save the most beautiful photos with our aunts, and make the most beautiful memories.
Format: 23x17cm
Number of pages: 60 pages
Binding: Paperback
Godina izdanja: 2021
ISBN 978-86-7594-070-8