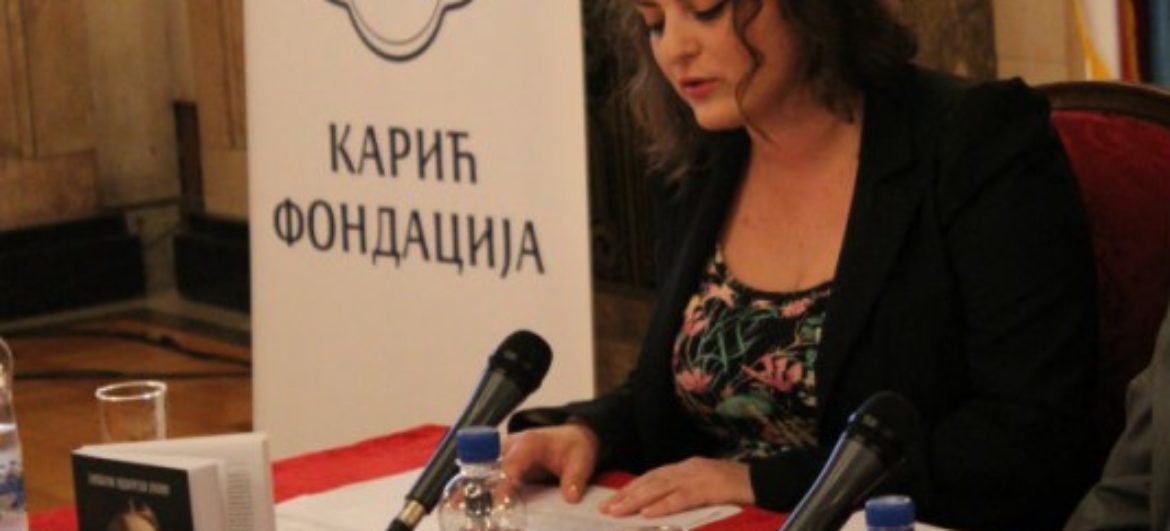 Mihajlo Idvorski Pupin – Book Promotion
After nearly eight decades of cultural, historical and scientific injustice, in front of us is the only authentic autobiography of Pupin, prepared just the way he wanted it to look
This valuable edition saw the light of day thanks to the Karic Foundation and Aleksandra Ninkovic Tasic, vice president of the Educational and Research Society Mihajlo Pupin. Since it was first published in the world, it has become an epoch-making work. It was not only the work of a scientist but a moral form. This moral pattern received the Pulitzer Prize and has been a required reading in American schools. Now, in the 21st century, thanks to the Karic Foundation and the native village of Pupin, Idvor, from which as they say he started writing, it will be available to children from Serbia.
After several months of dedicated work of Danica B. Karic and Aleksandra Ninkovic Tasic, the book "From Immigrant to Inventor" was formally presented at the City Hall on June 16, 2016.
"This is a special moment and my joy is now the greatest after all the years of anguish and effort for "Pupinization". Together we place the foundation stone because Pupin's words are nothing less than the starting point at which we begin to build a building that is more than a building – it is an instruction about what a man can become observing Pupin's work: how a person may strengthen, harden his character, how imagination thrives, how power rises. I must also share with you the sorrow because decades had to pass before we revived this book again according to the standards and guidelines of Mihajlo Pupin" – said Aleksandra Ninkovic Tasic.
Secretary General of Matica Srpska, Djordje Djuric, took the opportunity to present to the guests about who Mihajlo Pupin was for our culture and how strong his relationship with Matica Srpska was.
"Matica Srpska indeed has reason to respect and treat Mihajlo Pupin with special reverence in order to ensure that his ideas and legacy are still living in the Serbian public. Relationship between Mihajlo Pupin and Matica Srpska starts from his earliest childhood because he was a native of Banat, aware of how Matica Srpska is responsible for the preservation of Serbian cultural identity. His earliest letters to Matica date back to 1910 and there is a preserved correspondence of their mutual agreement to enable the book about his life to be available to the Serbian public at the lowest possible price".
The actor Nebojsa Kundacina read fragments from the book and by his acting skills drew closer the words of Mihajlo Pupin to the audience who attended this evening.
"Exceptional people can do extraordinary things, but the course of destiny of a nation will always be guided by not only the efforts of one, or even more exceptional people of an age, but by the persistent power of the tradition of that nation".
Danica B. Karic, president of the Karic Foundation did not hide her pleasure and honor to contribute to the new edition of this epochal work. She emphasized how important it is for a family, society and finally the state, to treasure the memory and respect for their history and famous personalities.
"There are numerous ways to show your country that you love it and how much you are willing to do for it. For almost more than four decades, my family chose humanitarian work by establishing a family foundation, the Karic Foundation. Promoting and expanding the national culture and historical heritage we gave contribution to preventing the oblivion of all the good in our nation. Helping countless institutions and individuals by our benevolence work, we try to make their life more beautiful and bring smile back to their face. All of this lives in Pupin`s few words".
The book about Mihajlo Idvorski Pupin "From Immigrant to Inventor", published by the Karic Foundation and Matica Srpska in its authentic form, is considered for one of our most valuable editions.
It represents for us a fantastic attempt to preserve from oblivion the figure and work of the greatest Serbian scientist and an even greater man who obligated the global scientific community by his inventions, as well as all of us by his innumerable good deeds.
I can say that I feel great respect for the man who left an indelible mark in the history of the Serbian people and the state by his very existence and benefaction, creativity, true patriotism towards his homeland – said Danica B. Karic, president of the Karic Foundation.
A special delight was caused by the little ones from the primary school Jovan Sterija Popovic whose teacher "infected" them by love for Pupin. Aleksandra Ninkovic Tasic invited them collectively to be guests at the promotion and Danica B. Karic gave each of them a book.
"Some call my book an autobiography. In fact this is not an autobiography but only an attempt to prove that a Serbian peasant child, brought up by a Serbian illiterate mother, has a good basis for further life as much as any American child. My main intention was to introduce the Serbian peasant culture of Mr. Mihajlo Pupin to the American people and I think I managed well in that intent, because today there is a lot of talk in America about the tameness of Serbian peasants and the nobleness of Serbian mother "- says Mr. Mihajlo Pupin in his letter to Jovan Cvijic in 1925.
Since the exhibition of Mihajlo Pupin in the Historical Museum of Serbia has experienced unprecedented success and public interest, which caused it to be extended, we asked the author Aleksandra Ninkovic Tasic how it feels to succeed in such a large project.
"It feels great because you are doing something that has a meaning and purpose for the common good, because it is released from the heart, and the zeal and enthusiasm continued to be transmitted and implanted in people and showed that Pupin has live power even in the 21st century"- says Aleksandra Ninkovic Tasic
After the end of the exhibition Danica Karic also said a few words about what it feels like to participate in correcting the huge cultural and historical injustice.
"It is our honor. The connection between Aleksandra and me was meant to happen. If it had not been us, it would be someone else. This had to come to life; even after almost 100 years, Pupin`s words live thoroughly. Each Serb, Serbian child, each and every Serbian house should have this book. These are words that should be read during the whole life.
As a foundations and as a family we try to promote and maintain our Serbian culture, heritage, history, the meaning of being a Serb, a Serbian family. This is something that Pupin did too and we, therefore, felt it to be our mission too and were further inspired. I hope that by this book we inspired our people to be proud of being Serb".
Autobiography "From Immigrant to Inventor" by Mihajlo Pupin, published by the Karic Foundation can be purchased at more than a symbolic price in the shop "Happy Planet", the Historical Museum of Serbia and through the website of the Karic Foundation.