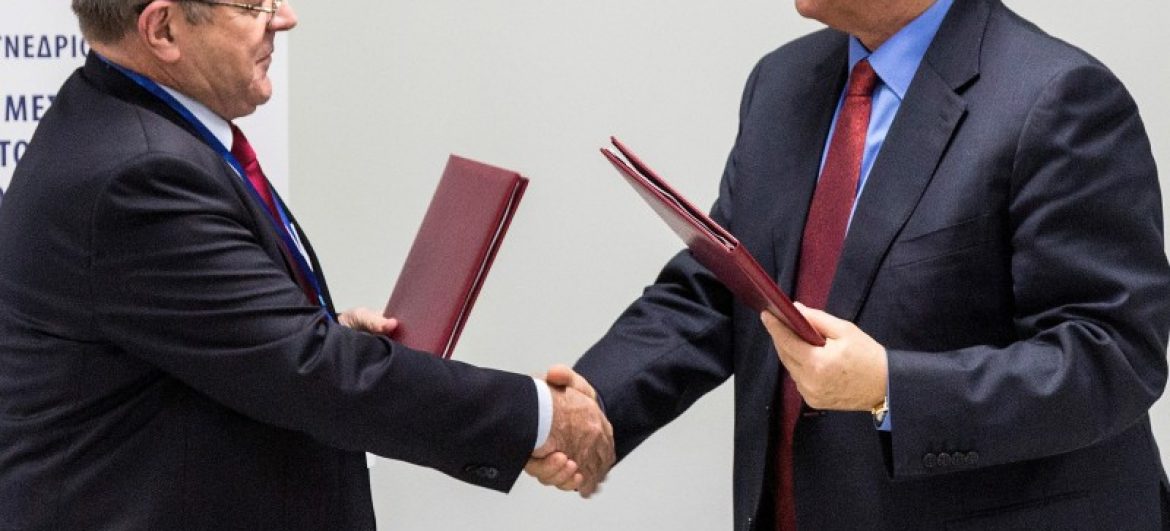 Signing the agreement for cooperation between Karic Foundation and the foundation of " Saint Andrew the First-Called"
The Cooperation Agreement between the two Foundations was signed in the city of Patras in Greece, during the international conference "The Voice of Saint Andrew the First-Called in the Modern World".
The agreement was signed by Dragomir J. Karic on behalf of the "Karic Foundation" and Vladimir Ivanovich Yakunin before the "Saint Andrew the First-Called" foundation.
Vladimir Bushuyev, director of the Foundation of St. Andrew the First-Called said at the opening ceremony that he has been working with many Serbian organizations for 20 years and has an excellent cooperation with the Karic Foundation.
He pointed out his belief that the two foundations will continue to strengthen friendship between Serbian and Russian nations.
The President of the foundation Board Vladimir Yakunin expressed his wishes for success and prosperity in cooperation, after the signing of the Agreement.
"You can count on us as your friends" he said.
Dragomir J. Karic said in addressing conference attendees: "We have been cooperating for a long time and it is important to confirm it with such agreement. Also, we are creating a strategic plan for the preservation of both are nations values. "
Karic talked about the main projects of Karic Foundation among which is the Karic Brothers Award Ceremony, reminding everyone that Russian President Vladimir Putin was the laureate in 2014.
The signing ceremony was attended by Serbian government officials as well, Minister of Education  Mladen Sharchevic and the director of the Office for Cooperation with Churches and Religious Communities of the Republic of Serbia Mileta Radojevic, Bishop of Nis Arsenije, State Secretary Ana Langovic-Milicevic, Assistant Minister Marko Nikolic. Russian representatives were the Ambassador of Russia to Greece his Excellency Andrei  M. Maslov, Archbishop of Nizhny Novgorod Iliya, Archbishops of Greece Chrysostom and Alexander of Jerusalem, representative of the Russian President Vladimir Putin's administration for inter-religious relations Ms Natalia Vladimirovna, M.P. of the Russian Duma Sergey Anatolyevich Gavrilov, Director of the "Saint Andrew the First-Called" foundation Vladimir Viktorovich Bushuyev and others …