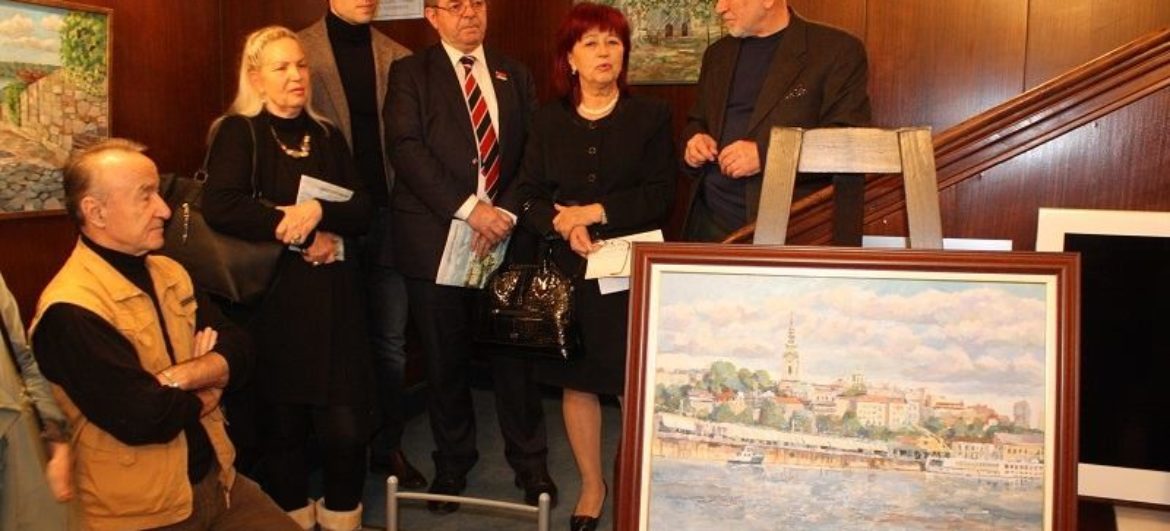 Art Exhibition " Picturesque Land" by Anatoliy Petrovich Ivakin
The first solo exhibition of Anatoliy Ivakin titled " Picturesque Land", Serbia seen through the eyes of a Russian painter, was opened on Tuesday, February 14th, in the crowded Marble Hall of the Russian House in Belgrade.
The Karic Foundation participated in organization of this event together with the Russian House. At the opening ceremony on behalf of the foundation M.P. Dragomir J. Karic, pointed out the great talent of the artist both as an architect and as a painter.
He has been living here for 30 years and thinks of Belgrade and Serbia as his own country. He presented paintings with motifs of rivers Sava and Danube as well as of the Serbian countryside.
Wellknown painter and professor Vera Djukic, a friend of Mr. Ivakin, also addressed visitors at the exibition beside Mr Dragomir J. Karic. She spoke of his canvases that reveal how he inweaves into it, with ease of skills, like music, a high-emotional state of his soul and his emotions, his life-force.
Ivakin was born in 1950 in Korkin, the Chernobyl region. In 1974, he graduated from architecture at the Sverdlovsk Architectural Institute. He has moved to Moscow during 1990 due to the engagement at the "Karic Brohers" company. Ivakin was involved in design and construction of large facilities in Tobolsk, Surgut and Yekaterinburg.
The mood at the exhibition was enhanced by the music company "Djura Jakshic" from Belgrade, so the song was to the pleasure of all visitors. The President of BK company, Mr Bogoljub J. Karic, also attended the opening of the exhibition and was presented a painting with a motif of his place of birth.
The exhibition is opened until February 28, Mon.-Fri. from 9 am to 9 pm in the Marble Hall of the Russian House.