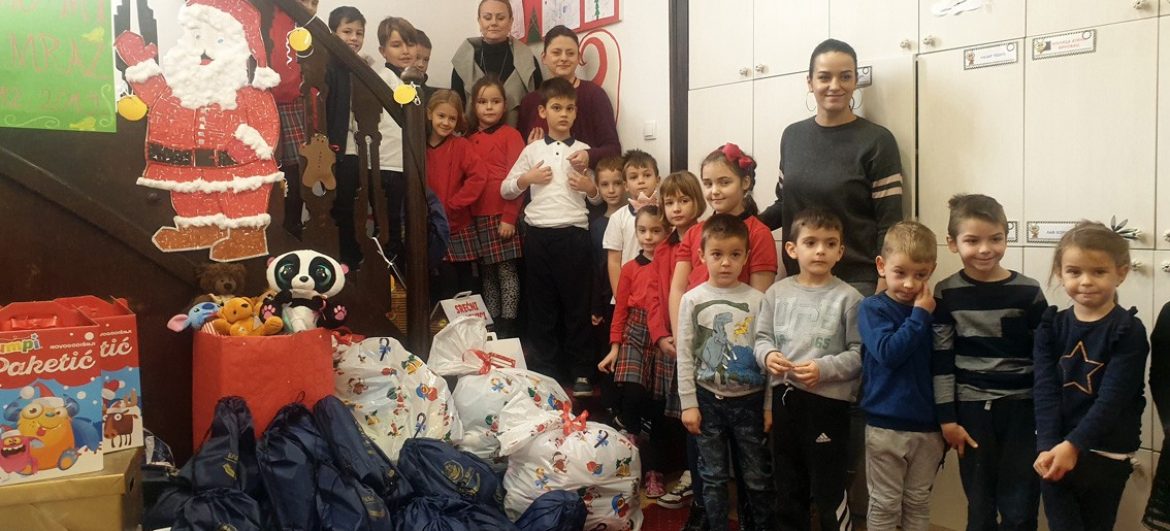 Humanitarian action "We are all Santa Claus"
For the second time in a row, the Karić Foundation responded to the action "We are all Santa Claus" organized by the "CREATIVE PEN" Educational System. The end of the year is a great time to do a good deed and tell others that the New Year is ideal for new beginnings and joys. Numerous organizations, institutions, educational institutions showed their humanity in action and said, with this gesture of goodwill, that together we can do more. The importance of giving, the development of humanity and empathy, in addition to the Karić Foundation, were also supported by: Humanitarian organization Nađi Raula, Vila Aleksandar Orašac, Vrtić Akvica, Jovan Milić, Brian Brian Lack Company International, RUCK Serbia, Mental arithmetic SuanPan Belgrade – Smartacus, SrbijaDanas.com.
The collected gifts pleased the beneficiaries of the Vera Radivojević Home for Children and Youth from Bela Crkva, members of the "Pinocchio" Association for Mentally Underdeveloped Persons, as well as children from socially disadvantaged families in the region.                Also, Santa Claus arrived on a sleigh to children and their families from the municipality of Knić, bringing a handful of presents. In cooperation with the Municipality of Knić, a distribution of New Year's packets was held in the House of Culture, which was attended by Mrs. Maja Kovačević from Vrdil near Kraljevo, with her eleven children. And the charms of the holiday were also felt by the little ones at the Children's Department of the Clinical Hospital Center in Kragujevac. The idea of ​​this action is to send a message to the youngest from vulnerable social groups that they are important and that someone is thinking of them. The spirit of giving was awakened by the joint efforts of all donors. During the humanitarian action WE ARE ALL SANTA CLAUS, 3 tons of sweets, basic foodstuffs and one ton of toys, shoes, clothes, books and school supplies were collected. Everything that was collected was turned into 500 New Year's packets by the children from the Kreativno Pero Educational System with a lot of dedication and love. A little bit of children's hope, parental concern and a lot of love are packed into each package. Each package is completed with a unique gift that the children and their teachers prepared as part of the New Year campaign. Once again we showed that we can all become Santa Claus!
.