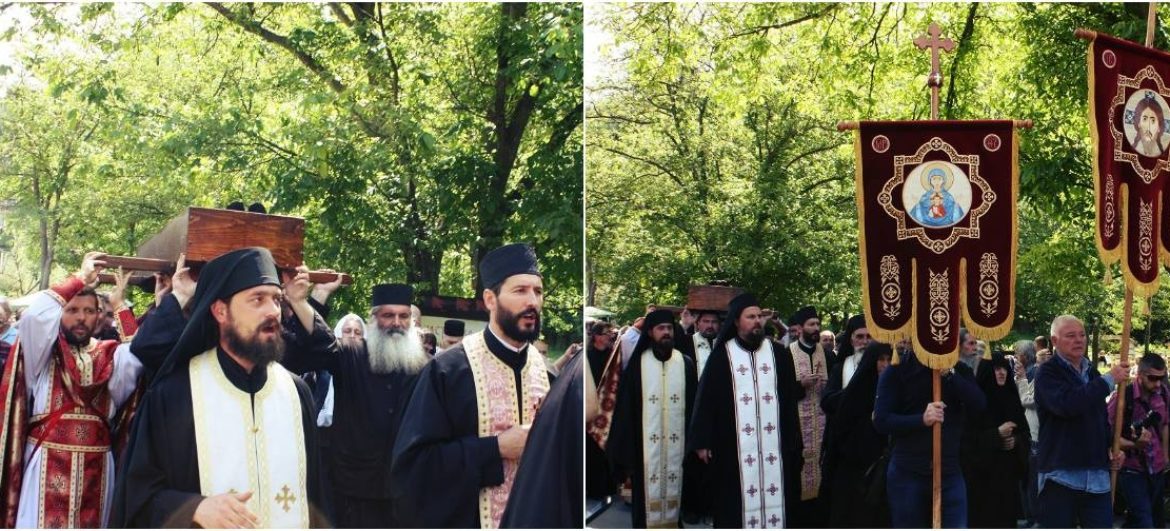 Donors to renovation and enterior decoration of the St. Zosim hermitage at the monastery of Tumane near Golubac received honors
Holy lustration of the renovated St. Zosim hermitage at the Tumane Monastery near Golubac and the festive act of the St. Jacob canonization on Sunday, May 28th 2017, attracted thousands of believers from all over Serbia.
Believers, including mothers with just born babes, waited patiently and in order to pay respect to the relics of the two saints and the miraculous icon of the Holy Mother of God that isin this sacred place at the foot of the Golubac Mountains, the endowment of Milosh Obilic.
Those who entered the temple were able to see the change of clothes on relics of the St. Zosim of Tumane, followed by a solemn procession when the saints' relics were moved to a hut, some kilometer from the monastery of Tumana, the place where St. Zosim lived and prayed. The believers also attended the liturgy performed by the Mihal-Koshic archbishop of the Orthodox Church for the Czech and Slovakian countries Bishop George, the Bishop of Branichevo Ignatius and the Bishop of Timok Mr. Ilarion.
The prior of the Tumane monastery, father Dimitriy, said that it is a great blessing to have the relics of these great antediluvian saints at the monastery.
The present condition and appearance of the Tumane Monastery, besides the endless devotion and dedication of the prior Dimitriy and the brotherhood, is to thank many donors and contributors to the renovation of this temple. They have been rewarded for their help in the reconstruction and restoration of this Holy family especially for the St. Zosim of Sinai, the Tumane miracle man.
In recognition of the great appreciation Bogoljub J. Karic, Karic Foundation and "BK Tesla" company were rewarded by the monastery. Dragomir J. Karic M.P. said that the Karic family will continue to help the monastery of Tumane and other Serbian sacred places.
Deyan Mitrovic, a donor from Belgrade, also received reward for he has started the reconstruction of the monastery two years ago.
Prior Dimitriy spoke of the monastery Tumane pointing out that it is the only Kosovo monastery in Serbia that is outside of Kosovo. He expressed his gratitude once again to those who have helped with their prayers and contributions to renewal of the monastery.
Besides the representatives of the Serbian Orthodox Church, the ceremony was attended by the director of the Office for Cooperation with Churches and Religious Communities of the Republic of Serbia Mr Mileta Radojevic, Chairwoman of the Executive Board of the central committee of the PSS – BK party, Mrs Persa Minyovic, Chairman of the Supervisory Board Mr Milosh Vuchinic, representatives of the Karic Foundation and many other distinguished guests.