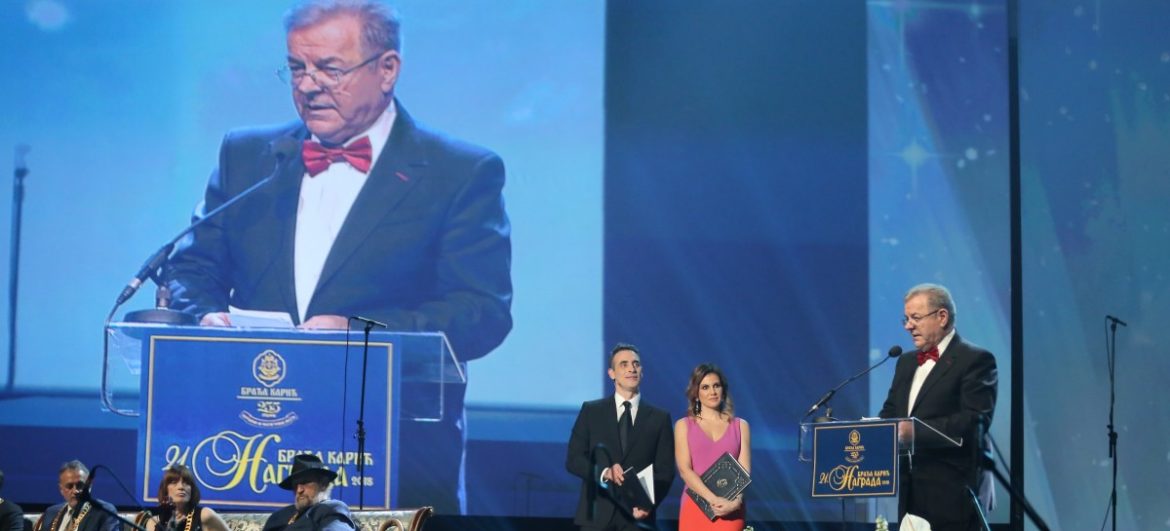 255 Years of Entrepreneurship of the Karic Family and the 21st Ceremony of the Karic Brothers Award
The Karic family marked 255 years of entrepreneurship and for the twenty-first time presented the Karic Brothers Award on November 22, 2018. Numerous guests, celebrities, representatives of confessions and diplomatic corps attended the Award ceremony at the Belgrade Sava Center.
Documentary films depicted the history of the Karic family and a special focus was on the importance of the family as the basic unit  of the society. The idea was to convey a message that the family should have its day in Serbia, a family day, that our generations have to know who their grandparents and ancestors are. Let us all together confirm that:
"The family is really the safest place"
Documentaries showed a period of two and a half centuries of entrepreneurial activity of the Karic family. According to church sources and family traditions, the family has been engaged in entrepreneurial affairs since 1763. They were teachers, priests, officers, scientists, bakers, tinsmiths,  tanners, merchants …
Today BK Group is represented on all continents and is recognized among the most important companies in the world. This past May at the largest economic forum in Davos, a member of the BK group, Dana Holdings was ranked at the top of the 100 largest global companies, alongside Apple, Samsung, TIME, Zara, Amazon, Alibaba, IKEA, Instagram, Netflix , Roshe and others …
During the gala ceremony the audience was able to enjoy in a very interesting and well-organized  art performances of eminent Serbian artists: Young Philharmonic Orchestra "Borislav Pašćan" under the conductor Đorđe Pavlović, AKUD choir "Ivo Lola Ribar" under the conductor Milovan Pančić, Bora Dugić, Nevena Božovic, Una Sage Serbike, …
The second part of the program brought the twenty-first Karic Brothers Award Ceremony to prominent personalities for the greatest achievements in the following categories:
– Culture and arts, Hadži Petar Božovic
– humanitarian activities, Arnaud Gouillon
– science and research, Dr. Gordana Vunjak Novaković
– sports, Dragan Stojković Piksi
– a special sports award for outstanding results achieved at the world championships in Japan, The Serbia Women's National Volleyball Team
Awards were presented by Dragomir J. Karić and Olivera Karić Nedeljković.